Welcome to another episode here on the Sensibly Insane Channel.
I'm your host, Stacy Dawn, and boy, let me tell you, it's been a wild week here at the studio.
Doesn't our hunky guest spinner look a little wild to you?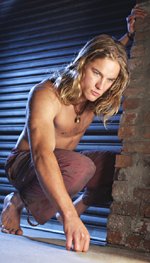 Mmmm, I don't know whether to growl or purrrrr.

Why don't we let him put those wild muscles to good use and spin our prize wheel? Let's see what one lucky contestant will win this week.




Tickety-tickety-tickety-tickety....tickety-tickety-tickety....tickety-tickety...tickety...tick.

It landed on tattoos. Ooooh, wild and wicked!

Are you all ready?

Here's your escape:
What's their story?

Give me two lines or give me twenty, it doesn't matter. Just open up and let yourself....

Feel free to pop over to Sweeter Romantic Notions Authors' Blog where I'll be blogging about The Craft today.