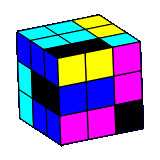 I usually like puzzles, especially the kind I do with the kids because, well, they're easy. Okay, I never mastered the Rubik's cube and I've never liked the hard word puzzles or those jumble things...I suck at those. Which is probably why I've been having some problems with my current wip.
I thought it was an easy story...it isn't. I thought it wanted to be told in 1st person...it doesn't. I thought I had the order of events down...I don't. Worst of it is that I know I'm missing a piece--you know that one piece that was probably sucked up into the vaccum cleaner.
The good news is that I have the initial rough copy done. Now for the hard part--tearing it apart and fitting it back together the way it shows on the box-top in my head. I have a hunch I'm going to be on the livingroom floor this afternoon. While my son cuts and pastes shapes to his paper to create a childhood masterpiece, I'll be cutting and pasting my papers back together to create a manuscript.

-------------------------------------------------
We're hosting the Sweeter Romantic Notions Authors at the Romance Bistro today! Pop over for some fun and a chance for one of my Fun-Stuffed Envelopes.
---------------------------------------------------
Yep, you guessed it, I added more to the window display at the Diva Bookshelf. TBR pile getting low...go on over and browse the shelves!
----------------------------------------------------