So, I'm sitting here listening to Christmas carols. Yes, that's right, I'm said Christmas music. Fa la la la la and all that. Haven't you ever heard of Christmas in July LOL?
Actually, its because I'm racing to get my Christmas story submitted by the July 1st deadline. It's a sequel to my last year's release,
Reindeer Games
.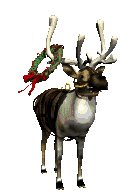 This one is tentatively titled,
Christmas on Parole,
and takes place again in Noelle, Alberta with a little bit of help from Santa Claus Holloran.
The good news is that it's going well, the bad news is that it is going slooooooow.
Seriously, I don't know how that works. I'm in the revision process so it's more time consuming getting everything just right yes, but I'm loving how things are working out so it feels like I should have accomplished a lot yet when I look up, I've only done like two pages. Sheesh, at this rate it will take me until Christmas LOL.

But my new motto--thanks to
Candice
--is Just Do. No, not the copyrighted
Just Do It
. Simply, Just Do. Don't think and worry what all needs to be done, cause it'll bog you down and it takes more time to worry than it does to just go at it. Just do. When you sit down at the end of the day, you'll be surprised what you've accomplished.
So, my
C
h
r
i
s
t
m
a
s
i
n
J
u
l
y
present to you all is a simple message....Just do.