Is it seriously me? Am I that far in the stone-ages or just that far in the country.
You see, we bought an inexpensive computer this weekend, nothing fancy, just one that will work and can be used by the whole family vs my laptop which I've horded for the last couple years for fear someone would crash it and lose all my work (I do keep extensive backups but I'm paranoid LOL) So this will be a good back-up and dependable computer for me and also one the whole family can use.
But it doesn't come with a telephone modem?? What? Seriously. Of course, we didn't find this out until we had it all set up and was trying to hook up to the internet through our dial-up. It has a telephone hook-up in the back and wants to get to the internet but it took me a bit to figure out that the error was because of no dial-tone. So I put in every variation of modem, set up dial-up etc into the computer, looked at tons of dialogue boxes I had no idea what they said, and still couldn't get it to work figuring the computer's internal modem just didn't work--we'd bought a broken computer.
Then my husband read the box. Modem: None.
Yeah, we're real brainers in this family LOL
So we called around and found two types. One that you open your hardrive and install, and the other an external one with a USB. Since the internal one was A LOT cheaper (since we just spent all the money on the actual no-modem computer) my husband bravely said that he could install the little computer board into the harddrive no problem.
Stay tuned to see if I stopped laughing long enough to let him do it. Even these guys know more about computers than he does.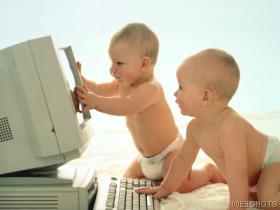 Does your computer have a built in modem, are you lucky enough to be wireless or did you have to do an install too?